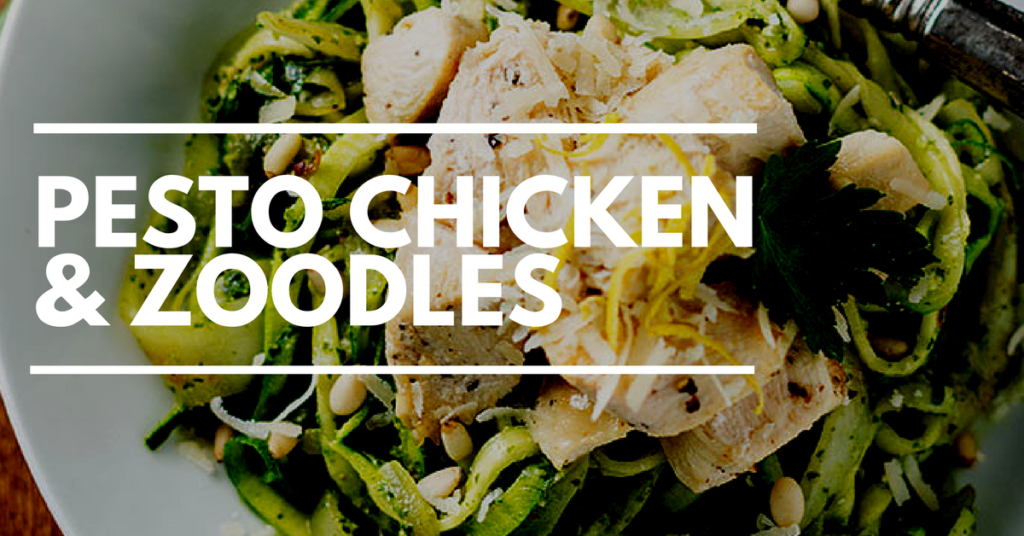 This recipe is one of my clients favourites! Loaded with flavour, good fats and protein, this is certainly a simple dish to whip up even on the busiest of days.
Recipe for Pesto Chicken with Zoodles :
—Pesto Chicken
150g Shredded Chicken
1Tbs Basil Pesto
1 Tbs Olive Oil
Salt & Pepper
—Zucchini Noodles
1 Large sized zucchini, spiralized
Salt and pepper
1 Tbs Basil Pesto
1Tbs Parmesan Cheese
Squeeze of Lemon
1Tsp Lemon Rind
Directions For Pesto Chicken :
In a medium sized bowl, combine the shredded chicken, pesto, Olive Oil and salt, and pepper tossing together until the chicken is coated in the pesto.
Directions For Zucchini Noodles :
Heat a large skillet over medium high heat and add 1tsp of Olive Oil.
Add in the spiralized zucchini along with some salt and pepper to taste.
Toss everything together and heat through for about 1 minute.
Remove from the heat and divide into two bowls.
Top the noodles with the shredded chicken, more pesto, 1Tbs of parmesan Cheese, Lemon Rind & Juice.
Enjoy! x